Colección dibujos Arte azteca. Ilustración de Los guardias del tesoro
Dos figuras custodian un tesoro. Ambas figuras tiene cabeza de perro o chacal, un rabo largo y por otra parte están humanizados con brazos, manos y piernas. Vestidos con ropas aztecas sencillas. Estos dos personajes colocados uno enfrente del otro protegen una caja o tinaja donde hay un tesoro. El guardián de la derecha sostienen además, una forma circular sobre su mano, como si de una pieza de oro se tratase. El diseño, de trazos negros sobre fondo blanco, es muy sencillo y expresivo.
Descarga la ilustración para diseño gráfico en formato SVG editable. Ilustraciones libres de derechos de autor. Creaciones de Cristina Alejos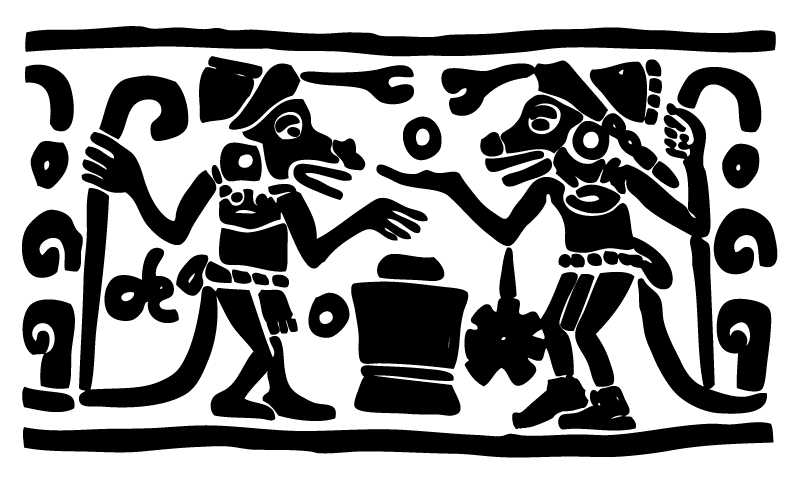 English info
Drawing of two aztec guards
Two figures guarding a treasure. Both figures have a dog or jackal head, a long tail, and on the other hand are humanized with arms, hands and legs. Dressed in simple clothes Aztecs. These two characters facing each other placed, they protected a box or jar with a treasure. The Guardianon the right contends a circular shape on his hand, something like a piece of gold. The design with black lines on a white background is very simple and expressive
Français info
Dessin avec deux gardes aztèques
Deux figures qui gardaient un trésor. Les deux personnages ont une tête de chien ou de chacal, une longue queue, d'autre part sont humanisés avec les bras, les mains et les jambes. Vêtus de vêtements simples Aztèques. Ces deux personnages qui s'affrontent, avec une boîte ou un bocal protégé où il ya un trésor. The Guardian à la droite, il est avec une forme circulaire sur sa main, une pièce d'or. La conception de lignes noires sur fond blanc, est très simple et expressive.