Ilustración de unas monedas euros
Fotografía con retoque digital de una composición con unas monedas de euros. Sobre una mesa se distribuyen estas monedas y céntimos. La gama de colores es gris, algo azul.
Esta ilustración sirve para hablar sobre el dinero, la economía, las crisis económicas, el euro, la moneda europea, la unión económica europea y otras ideas relacionadas con las monedas del euro. La imagen sirve como imagen de fondo para un diseño.
Pintura digital creada a partir de una fotografía. Descarga ilustraciones y diseño gráfico gratis creados por Cristina para los diseñadores gráficos, ilustradores y artistas multimedia.
Ilustración titulada "Monedas de euro"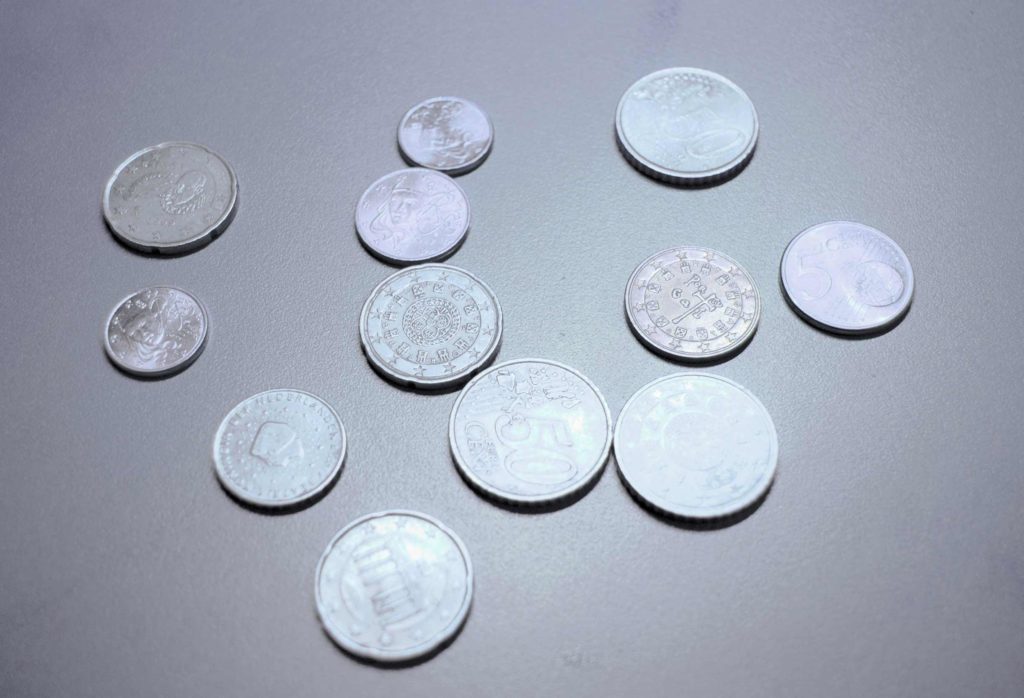 Ilustraciones de Monedas de 50 céntimos sello de Portugal
A partir de la misma fotografía hice algunas ilustraciones de las monedas, que como un juego, han sido convertidas a dibujos. Estilo dibujo vectorial, con colores de fondo diferentes.
---
English info – Free illustrations
Coins in Europe
Illustration of some euro coins Photograph with digital retouching of a composition with some euro coins. On a table these coins and cents are distributed. The color gamut is gray, somewhat blue. This illustration is used to talk about money, the economy, economic crises, the euro, the European currency, the European economic union, and other ideas related to euro currencies. The image serves as a background image for a design. Digital painting created from a photograph. Download free illustrations and graphic design created by Cristina for graphic designers, illustrators and multimedia artists.
Français info – Artwork gratuit
Pièces en Europe
Illustration de quelques pièces en euros Photographie avec retouche numérique d'une composition avec quelques pièces en euros. Sur une table, ces pièces et cents sont distribués. La gamme de couleurs est grise, légèrement bleue. Cette illustration est utilisée pour parler de l'argent, de l'économie, des crises économiques, de l'euro, de la monnaie européenne, de l'union économique européenne et d'autres idées liées aux monnaies de l'euro. L'image sert d'image d'arrière-plan pour un dessin. Peinture numérique créée à partir d'une photographie. Téléchargez gratuitement des illustrations et des graphismes créés par Cristina pour les graphistes, illustrateurs et artistes multimédias.