Ilustración de una verdadera mujer extraterrestre que ha venido del planeta Venus
Esta ilustración fue creada después de leer el libro: Los hombres vienen de Marte y las mujeres de Venus. En ese libro se habla de las diferencias entre hombre y mujer.
En esta ilustración podemos ver el rostro de una mujer. La emoción de su rostro es un trastorno del amor y el sufrimiento. La mujer tiene un adorno en su cabeza, símbolo del planeta Venus. Sus cabellos negros están enredados, no sabemos si por la pasión o por su enfado contra los hombres. Las discusiones entre hombres de Marte y mujeres de Venus son muy frecuentes. Destaca la belleza de su boca y de sus ojos. He creado varios archivos JPG de la misma imagen.
Pintura creada con la técnica del pastel sobre papel de grano medio. El estilo gráfico es expresivo. Los trazos negros muy marcados. Las masas de pintura aplicadas con fuerza y presión.
Descarga directamente la ilustración para diseño gráfico en formato JPG. Existen varias versiones y archivos JPG. Ilustraciones libres de derechos de autor. Creaciones de Cristina Alejos.
Ilustración titulada "Mujer de Venus"
Imágenes de la ilustración
Rostro encuadrado y con tonos más azules
Una versión de la misma imagen centrada en la expresión del rostro.
Detalle de la boca de la mujer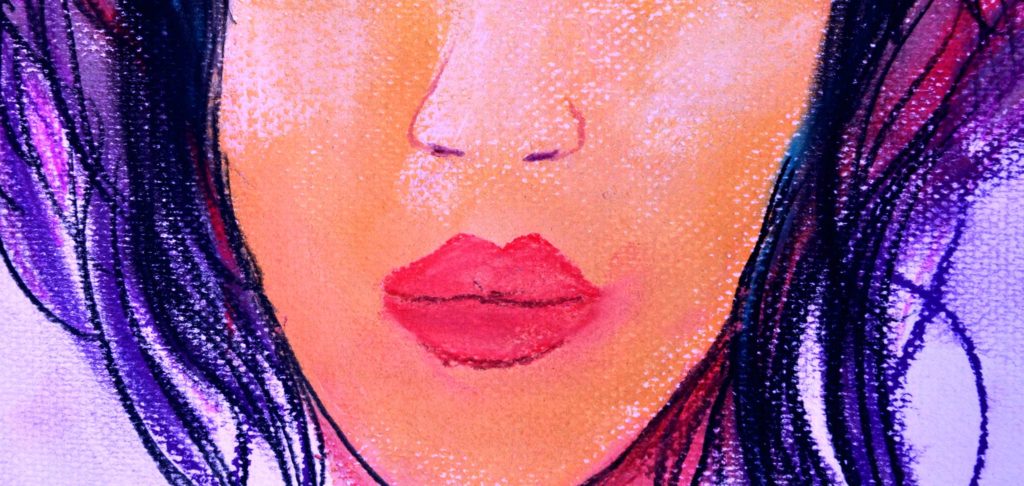 Esta imagen puede servir para un diseño gráfico de maquillaje, moda o simplemente la sensualidad de las mujeres.
---
Dibujo con lápiz de la ilustración Mujer de Venus
Otra ilustración de la Mujer de Venus. Creado con lápiz y dibujo de líneas. Esta es otra versión con el mismo tema y la misma estructura pero completamente distinta. La cara de la mujer está completamente limpia. La expresión es relajada. Hay un gran contraste de las líneas negras con el papel blanco.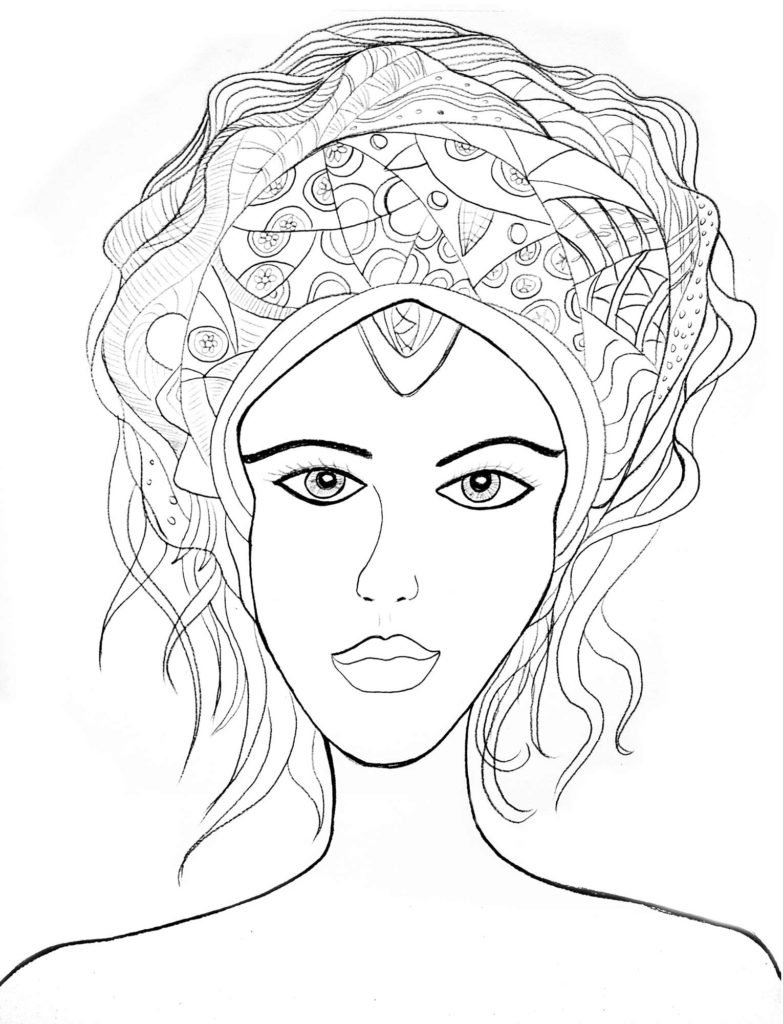 Este dibujo puede servir como imagen para colorear y como diseño con un dibujo en blanco y negro.
Dibujo Mujer de Venus versión violeta
Sobre el mismo dibujo anterior los diseñadores gráficos pueden jugar a añadir colores. Por ejemplo se puede añadir a toda la composición un color violeta. Así esta ilustración se convierte en una imagen con un color.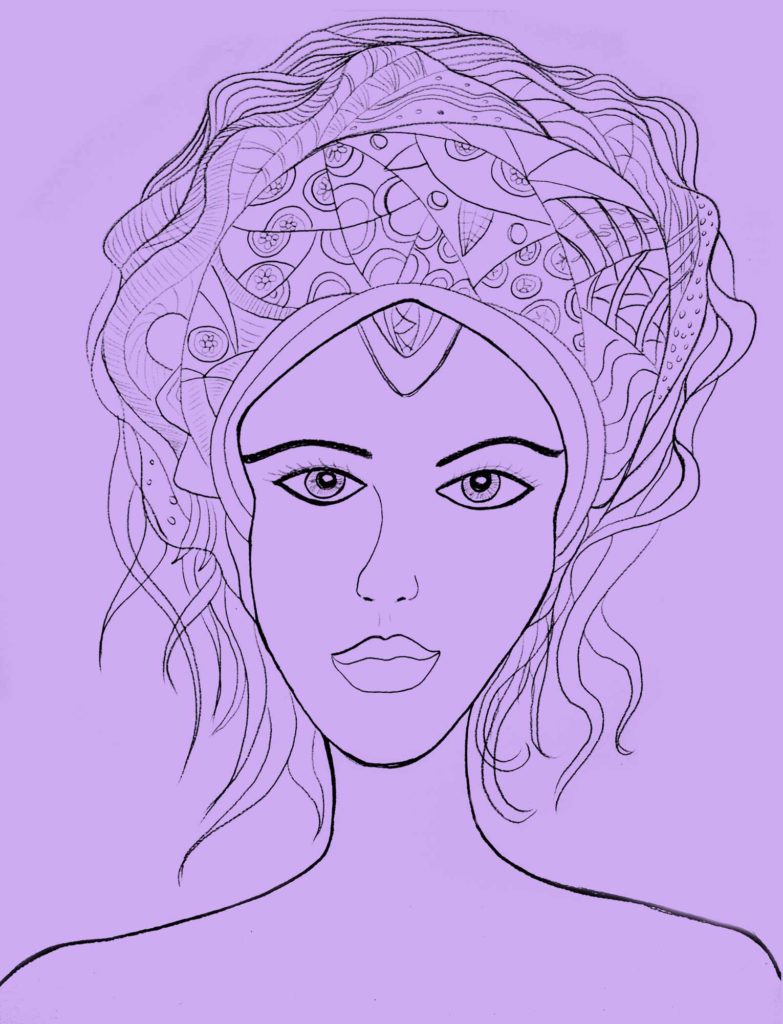 ---
English info – Free illustrations
Woman from Venus
Illustration of a real extraterrestrial woman who has come from the planet Venus This illustration was created after reading the book: Men come from Mars and women from Venus. This book talks about the differences between men and women. In this illustration we can see the face of a woman. The emotion on her face is a disorder of love and suffering. The woman has an ornament on her head, symbol of the planet Venus. Her black hair is tangled, we do not know if because of her passion or because of her anger against men. Arguments between men from Mars and women from Venus are very frequent. The beauty of her mouth and her eyes stands out. I have created multiple JPG files from the same image. Painting created with the pastel technique on medium grain paper. The graphic style is expressive. The black lines very marked. The masses of paint applied with force and pressure. Directly download the illustration for graphic design in JPG format. Royalty-free illustrations. Cristina Alejos creations.
Français info – Artwork gratuit
Femme de Vénus
Illustration d'une vraie femme extraterrestre venue de la planète Vénus. Cette illustration a été créée après la lecture du livre: Les hommes viennent de Mars et les femmes de Vénus. Ce livre parle des différences entre les hommes et les femmes. Dans cette illustration, nous pouvons voir le visage d'une femme. L'émotion sur son visage est un trouble de l'amour et de la souffrance. La femme a un ornement sur la tête, symbole de la planète Vénus. Ses cheveux noirs sont emmêlés, on ne sait pas si par passion ou par colère contre les hommes. Les disputes entre les hommes de Mars et les femmes de Vénus sont très fréquentes. La beauté de sa bouche et de ses yeux ressort. J'ai créé plusieurs fichiers JPG à partir de la même image. Peinture réalisée avec la technique du pastel sur papier à grain moyen. Le style graphique est expressif. Les lignes noires très marquées. Les masses de peinture appliquées avec force et pression. Téléchargez directement l'illustration pour la conception graphique au format JPG. Illustrations libres de droits. Créations Cristina Alejos.