Ilustración expresiva sobre el paso del tiempo y la vida
Esta ilustración la realicé en el año 1997 para un trabajo de la Universidad. La ilustración muestra el paso del tiempo y una metáfora de la vida de una mujer. Los estados del ciclo son los siguientes: una niña pequeña, una joven cogiendo una manzana, una mujer embarazada (la madre), y una mujer vieja. El ciclo representa así la infancia, la juventud, la madurez y el envejecimiento de una mujer. Además, el dibujo muestra cierta relación con la escena de la biblia donde Eva toma una manzana del árbol de la sabiduría y es expulsada del jardín del Edén.
Ilustración creada con acuarela y colores amarillos, rosas, magentas, azules y marrón. Dibujo de líneas creado con rotulador de dibujo. Estilo expresionista y libre.
Descarga directamente la ilustración para diseño gráfico en formato JPG. Ilustraciones libres de derechos de autor. Creaciones de Cristina Alejos
El ciclo de la vida de la mujer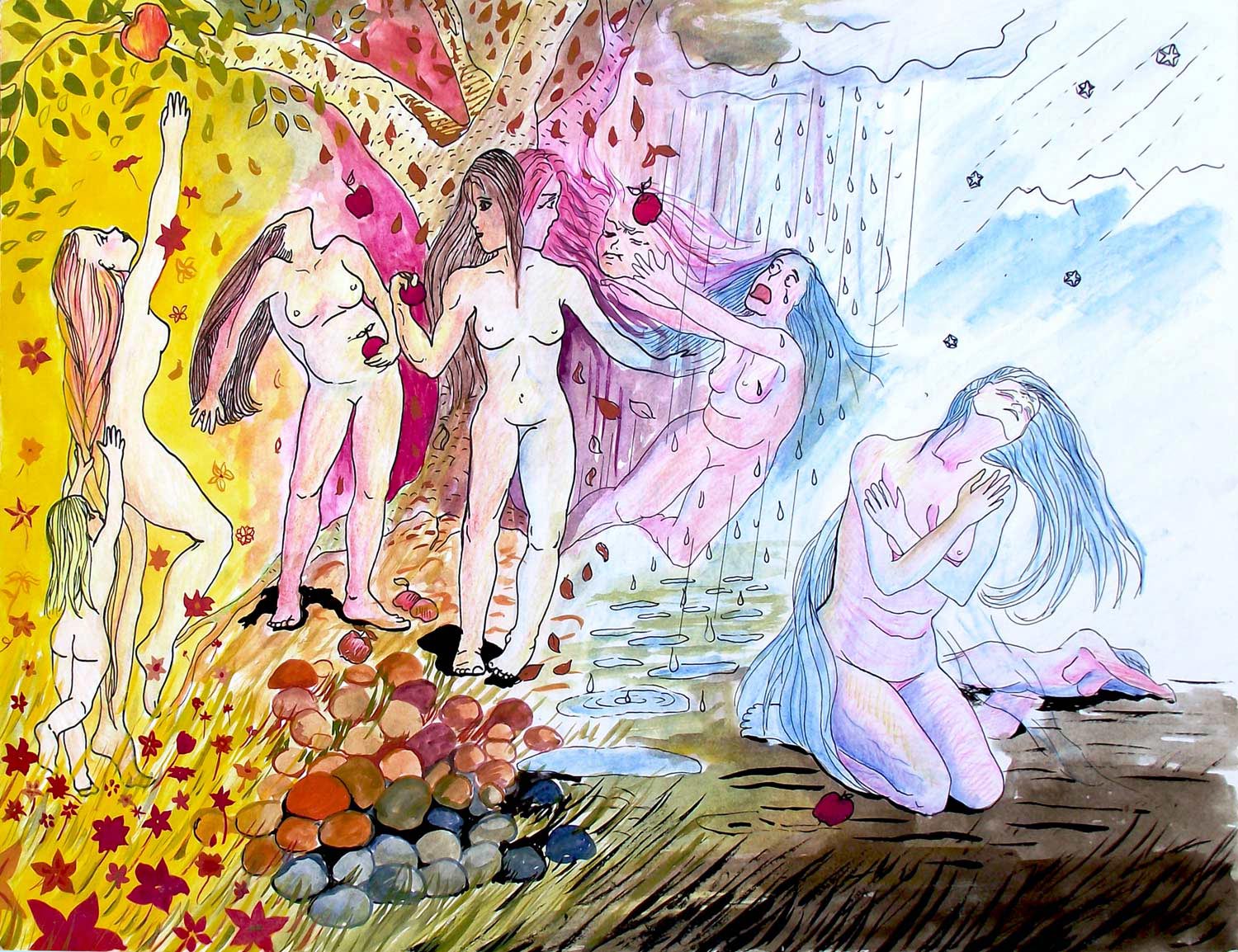 English info
The life cycle of women
Expressive illustration about the passage of time and life
I made this illustration in 1997 for a University job. The illustration shows the passage of time and a metaphor for a woman's life. The stages of the cycle are as follows: a little girl, a young girl picking an apple, a pregnant woman (the mother), and an old woman. The cycle thus represents the childhood, youth, maturity and aging of a woman. In addition, the drawing shows a certain relationship with the scene in the bible where Eve takes an apple from the tree of wisdom and is expelled from the garden of Eden.
Illustration created with watercolor and yellow, pink, magenta, blue and brown colors. Line drawing created with sketch pen. Expressionist and free style.
Directly download the illustration for graphic design in JPG format. Royalty-free illustrations. Creations of Cristina Alejos.
Français info
Le cycle de vie des femmes
Illustration expressive sur le passage du temps et de la vie
J'ai réalisé cette illustration en 1997 pour un poste universitaire. L'illustration montre le passage du temps et une métaphore de la vie d'une femme. Les étapes du cycle sont les suivantes: une petite fille, une jeune fille cueillant une pomme, une femme enceinte (la mère) et une vieille femme. Le cycle représente ainsi l'enfance, la jeunesse, la maturité et le vieillissement d'une femme. De plus, le dessin montre une certaine relation avec la scène de la Bible où Eve prend une pomme de l'arbre de la sagesse et est expulsée du jardin d'Eden.
Illustration créée avec des couleurs aquarelle et jaune, rose, magenta, bleu et marron. Dessin au trait créé avec un stylo d'esquisse. Style expressionniste et libre.
Téléchargez directement l'illustration pour la conception graphique au format JPG. Illustrations libres de droits. Créations de Cristina Alejos.