Ilustración de la cabeza de una mujer en una espacio azul, bajo el agua
Pintura con la bella cara de una chica joven vista de perfil. Su pelo rojizo es fino y largo. La cara vista de perfil, con una nariz pequeña. Los ojos cerrados y una suave sonrisa.
La expresión del rostro es de bienestar y tranquilidad. Incluso una suave felicidad. Al estar rodeada de colores azules, la imagen representa una persona que se sumerge bajo el agua. Los colores azules del agua son frescos y limpios.
Pintura creada con la técnica de acuarela. Descarga directamente la ilustración para diseño gráfico en formato JPG. Ilustraciones libres de derechos de autor. Creaciones de Cristina Alejos.
Ilustración titulada "Bajo el agua"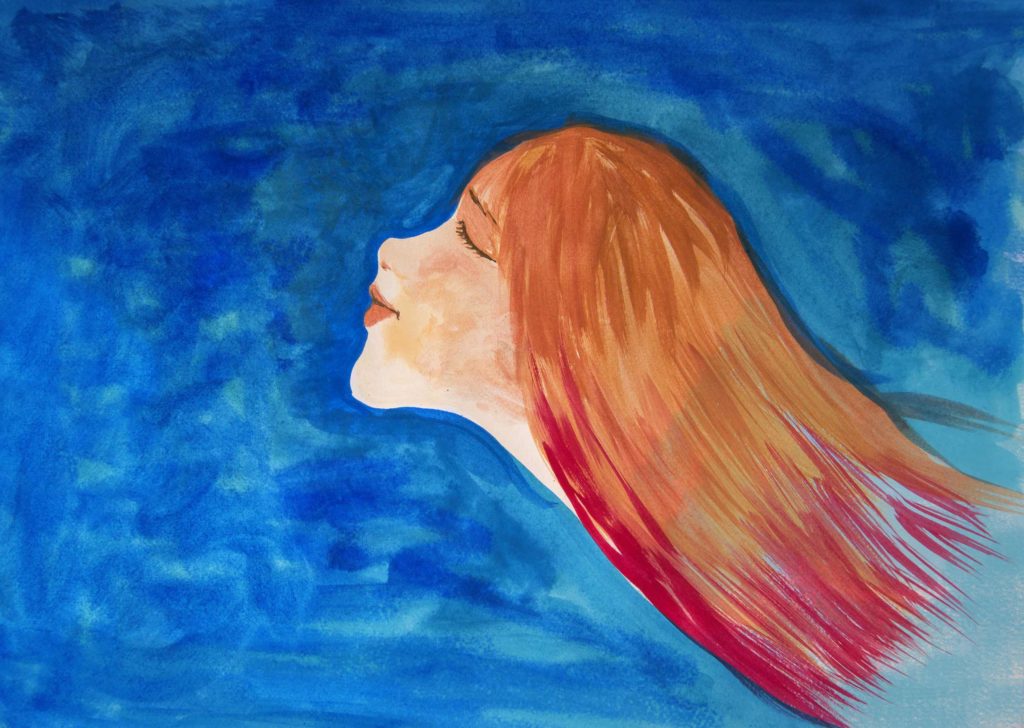 Esta ilustración sirve para expresar relax, el aire, el agua, el ser humano, la curiosidad, la felicidad y otras muchas ideas.
---
English info – Free illustrations
Underwater
Illustration of a woman's head in a blue space, underwater Painting with the beautiful face of a young girl seen in profile. Her reddish hair is fine and long. Her face seen in profile, with a small nose. Closed eyes and a soft smile. The expression on her face is one of well-being and tranquility. Even a gentle happiness. Being surrounded by blue colors, the image represents a person submerging under water. The blue colors of the water are fresh and clean. Painting created with the watercolor technique. Directly download the illustration for graphic design in JPG format. Royalty-free illustrations. Cristina Alejos creations.
Français info – Artwork gratuit
Sous l'eau
Illustration d'une tête de femme dans un espace bleu, sous l'eau Peinture avec le beau visage d'une jeune fille vue de profil. Ses cheveux roux sont fins et longs. Le visage vu de profil, avec un petit nez. Les yeux fermés et un doux sourire. L'expression sur le visage est celle du bien-être et de la tranquillité. Même un doux bonheur. Étant entourée de couleurs bleues, l'image représente une personne submergée sous l'eau. Les couleurs bleues de l'eau sont fraîches et propres. Peinture créée avec la technique de l'aquarelle. Téléchargez directement l'illustration pour la conception graphique au format JPG. Illustrations libres de droits. Créations Cristina Alejos.