Ilustración que representa la forma de vida del hombre prehistórico
Escena de una familia de humanos prehistóricos dentro de una cueva. Un fuego encendido donde ellos cocinan los alimentos. La mujer mira al niño que está a su lado. Al fondo, dos personajes miran la escena y ellos han recogido unos troncos para hacer fuego.
Dibujo coloreado. Descarga directamente la imagen JPG.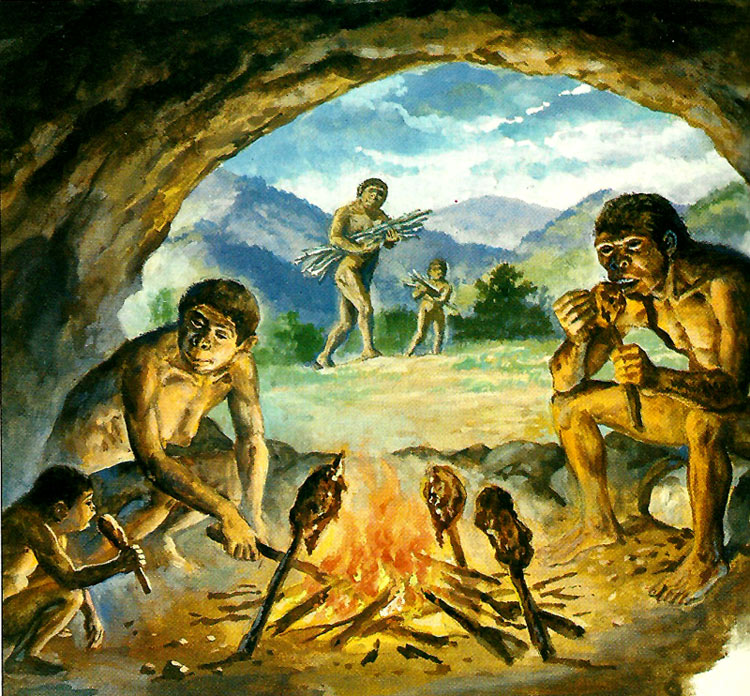 ---
---
English info
Life of prehistoric man
Scene of a family of prehistoric humans inside a cave. A fire lit where they cook food. The woman looks at the child next to her. In the background, two characters look at the scene and they have collected some logs to make a fire.
Français info
La vie de l'homme préhistorique
Scène d'une famille d'humains préhistoriques à l'intérieur d'une grotte. Un feu s'est allumé là où ils cuisinent la nourriture. La femme regarde l'enfant à côté d'elle. En arrière-plan, deux personnages regardent la scène et ils ont collecté des bûches pour faire un feu.