Colección de ilustraciones dedicadas al sentimiento de Amor
Ilustración con una pareja de hombre y mujer que pasean juntos mientras contemplan el atardecer. Colores potentes rojos y negro. El fondo es un degradado suave con la luz del sol y nubes blancas hechas con trazos de pincel.
Descarga la ilustración para diseño gráfico en formato JPG. Ilustraciones libres de derechos de autor. Creaciones de Cristina Alejos.
Pareja de enamorados paseando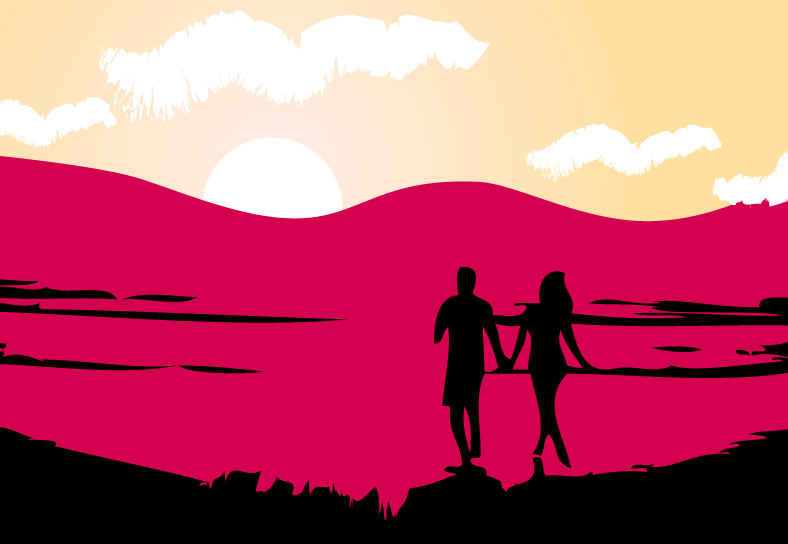 English info
Lovers walking
Collection of illustrations dedicated to the feeling of Love Illustration with a couple of men and women who walk together while watching the sunset. Powerful red and black colors. The background is a soft gradient with sunlight and white clouds made with brush strokes. Download the illustration for graphic design in JPG format. Royalty-free illustrations. Cristina Alejos creations.
Français info
Les amoureux de marche
Collection d'illustrations dédiées au sentiment d'amour Illustration avec un couple d'hommes et de femmes qui marchent ensemble tout en regardant le coucher du soleil. Couleurs rouges et noires puissantes. L'arrière-plan est un dégradé doux avec la lumière du soleil et des nuages ​​blancs réalisés avec des coups de pinceau. Téléchargez l'illustration pour la conception graphique au format JPG. Illustrations libres de droits. Créations Cristina Alejos.