Ilustración de un ser vivo de mínimo tamaño, una célula, una bacteria o un virus diminuto.
El personaje protagonista de esta ilustración es una gran esfera con formas curvas dentro. Es una especie de bacteria o elemento vivo básico, mínimo o esencial. Las líneas rojas y blancas dibujadas dentro de la esfera muestran el movimiento y, por lo tanto, su actividad vital. Esta forma de vida mínima flota en un espacio azul. Las líneas verticales son una lluvia. Las gotas de agua han sido dibujadas con líneas blancas.
Esta ilustración ha sido pintada con pinturas pastel sobre cartulina.
He creado tres versiones diferentes con modificaciones de luz creadas con el ordenador.
La inspiración de esta ilustración es la creación de la primera forma de vida en el planeta Tierra. La lluvia, las tormentas eléctricas y un ser vivo que se creó misteriosamente.
Descarga directamente la ilustración para diseño gráfico en formato JPG con un tamaño de 2500 pixeles. Ilustraciones libres de derechos de autor. Creaciones de Cristina Alejos.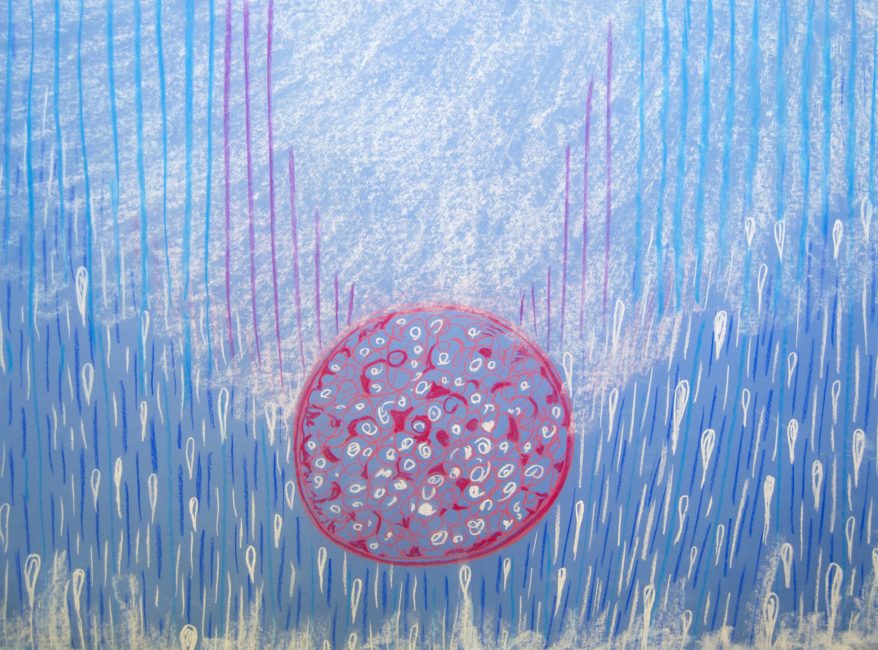 La creación de la vida en colores fosforescentes
Esta versión de la imagen original fue creada con un editor de imágenes. La modificación de color y luz genera un ambiente más misterioso. Es una imagen más fuerte. Los colores son más vivos y fosforescentes.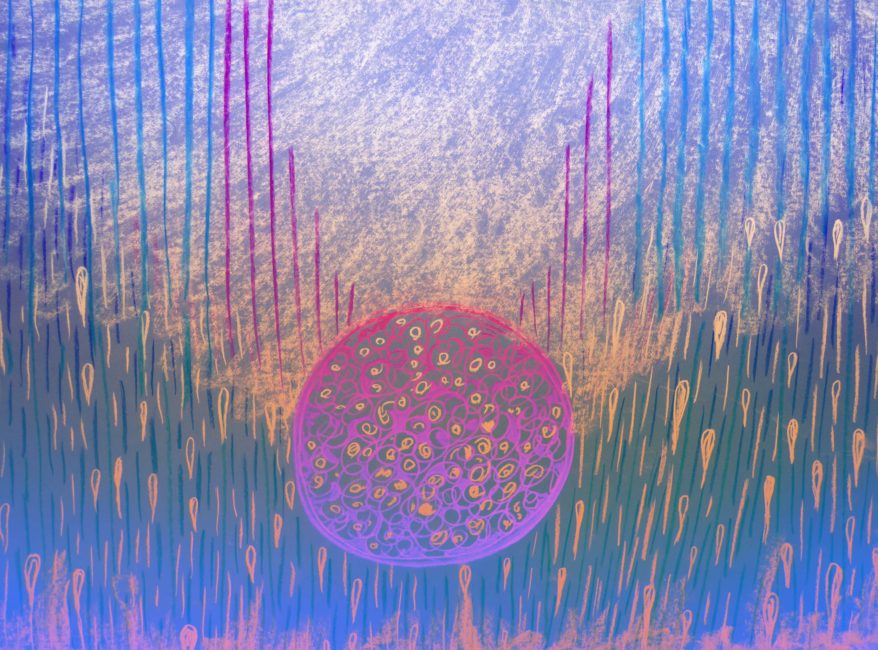 La creación de la vida en colores azules eléctricos
En esta versión de la imagen, también creada con un editor de imágenes, he modificado los colores para eliminar el rojo. Los colores azules, morados y magentas crean un ambiente nocturno y más tenebroso. La noche, la lluvia y el frío crean una escena misteriosa. Esto recuerda las tormentas eléctricas del planeta tierra cuando se creó la vida. Aunque no se sabe con certeza cómo ocurrió.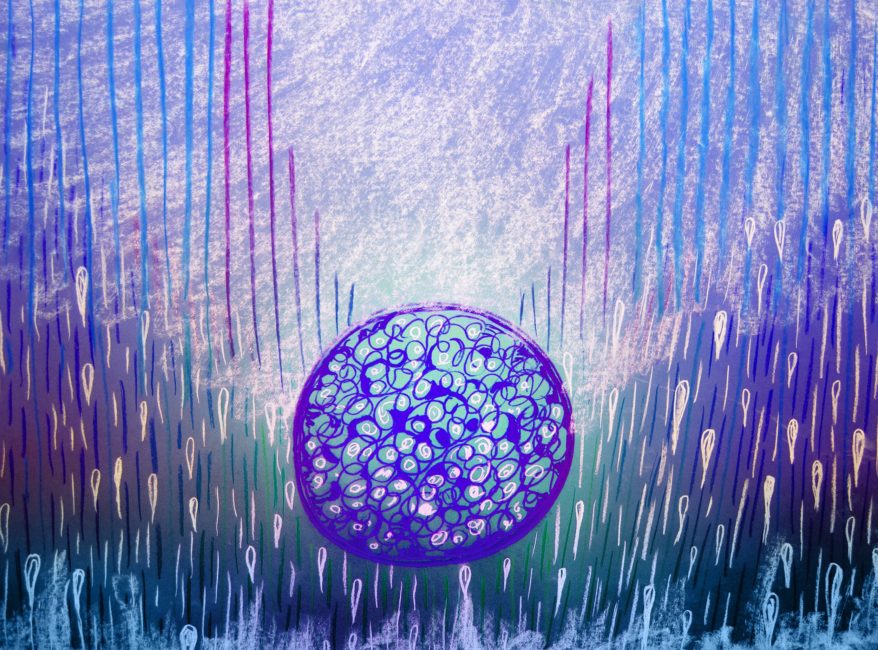 ---
English info – Free illustrations
The creation of life
Illustration of a tiny living being, a cell, a bacterium or a tiny virus. The main character in this illustration is a large sphere with curved shapes inside. It is a kind of bacteria or essential living element. The red and white lines drawn inside the sphere show the movement and therefore its vital activity. This minimal life form floats in a blue space. The vertical lines are a rain. The water drops have been drawn with white lines. This illustration has been painted with pastel paints on cardboard. I have created three different versions with computer-made light modifications. Directly download the illustration for graphic design in JPG format. Royalty-free illustrations. Cristina Alejos creations.
Français info – Artwork gratuit
La création de la vie
Illustration d'un petit être vivant, d'une cellule, d'une bactérie ou d'un minuscule virus. Le personnage principal de cette illustration est une grande sphère avec des formes courbes à l'intérieur. C'est une sorte de bactérie ou d'élément vivant essentiel. Les lignes rouges et blanches dessinées à l'intérieur de la sphère montrent le mouvement et donc son activité vitale. Cette forme de vie minimale flotte dans un espace bleu. Les lignes verticales sont une pluie. Les gouttes d'eau ont été dessinées avec des lignes blanches. Cette illustration a été peinte avec des peintures pastel sur carton. J'ai créé trois versions différentes avec des modifications légères faites par ordinateur. Téléchargez directement l'illustration pour la conception graphique au format JPG. Illustrations libres de droits. Créations Cristina Alejos.