Colección ilustraciones en tinta china. Pájaro Dodo extinguido
El dodo o dronte (Raphus cucullatus) era una ave regordeta y graciosa de las islas Mauricio, en el Océano Índico, donde se extinguió hacia 1680. Su lentitud en tierra, donde ponía los huevos, le hizo presa fácil de los colonizadores hambrientos. Grandes cambios en aquellos tiempos que no pudo superar su especie.
este dibujo lo realicé con tinta china y plumilla. El animal está de pie caminando. Este pájaro tiene un gran pico y las patas son como las patas de las gallinas. Plumas por todo su cuerpo.
Animales – Aves – Pájaro Dodo.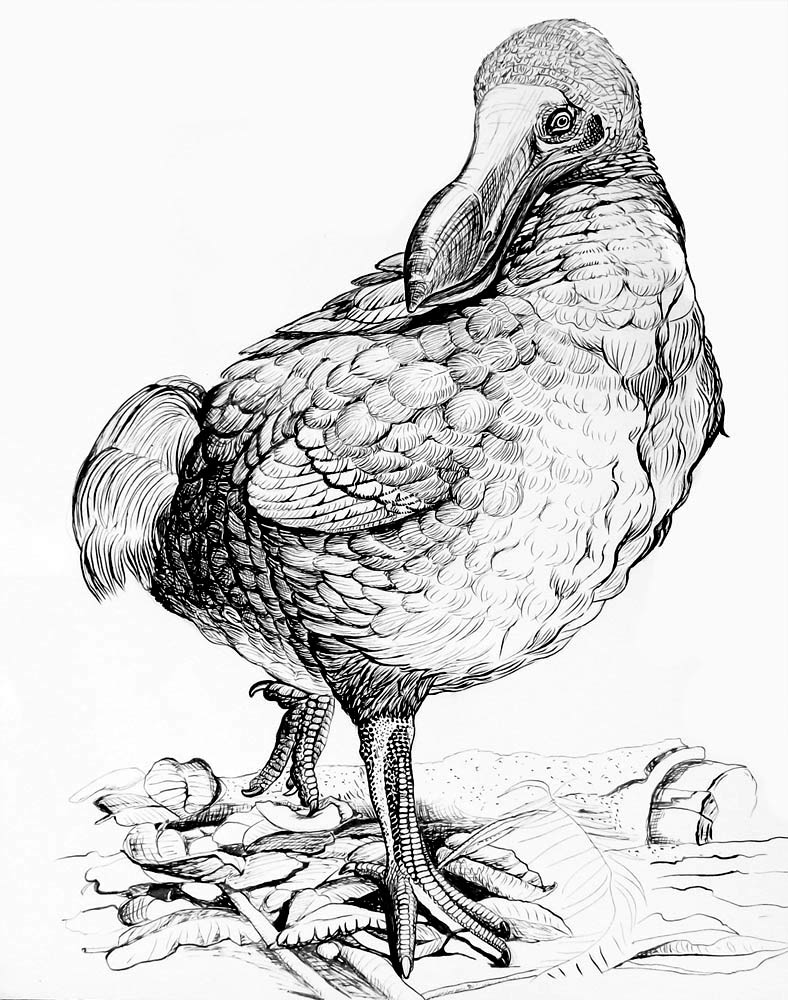 English info – Free illustrations
Collection illustrations in Chinese ink. Extinct Dodo bird
The dodo or drone (Raphus cucullatus) was a plump and graceful bird from the Mauritius Islands, in the Indian Ocean, where it became extinct around 1680. Its slowness on land, where it laid its eggs, made it easy prey for hungry colonizers. Great changes in those times that his species could not overcome. I made this drawing with Chinese ink and a pen. The animal is standing walking. This bird has a large beak and the legs are like the legs of chickens. Feathers all over his body.
Français info – Artwork gratuit
Illustrations de collection à l'encre de Chine. Oiseau Dodo éteint
Le dodo ou drone (Raphus cucullatus) était un oiseau dodu et gracieux des îles Maurice, dans l'océan Indien, où il s'est éteint vers 1680. Sa lenteur sur terre, où il pondait ses œufs, en faisait une proie facile pour les colonisateurs affamés. De grands changements à cette époque que son espèce ne pouvait pas surmonter. J'ai fait ce dessin avec de l'encre de Chine et un stylo. L'animal marche debout. Cet oiseau a un grand bec et les pattes sont comme les pattes des poulets. Des plumes sur tout son corps.