Colección ilustraciones en tinta china. Ilustración de un búho reposado en una rama
Este es un dibujo creado con el estilo de tinta china en blanco y negro. En esta ilustración podemos ver las alas plegadas del búho con el dibujo detallado de todas sus plumas, de una gran belleza y equilibrio. El búho tiene los ojos abierto y gira su cabeza hacia su lado izquierdo. El ave está colocado sobre una rama de un árbol.
Descarga la ilustración para diseño gráfico en formato SVG editable. Ilustraciones libres de derechos de autor. Creaciones de Cristina Alejos
Dibujo de un Gran buho formato vectorial SVG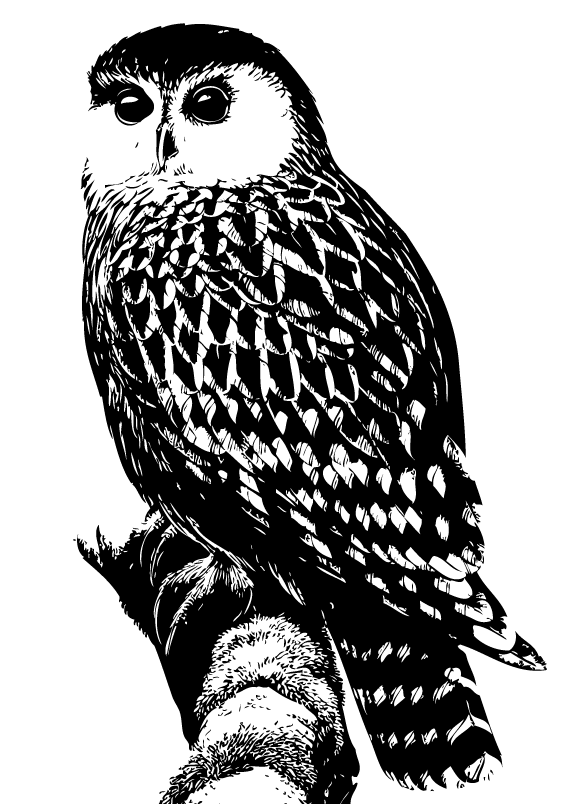 ---
Versiones de la imagen del Buho
English info – Free illustrations
Owl in ink, black and white
Collection illustrations in Chinese ink. Illustration of an owl resting on a branch This is a drawing created in the black and white India ink style. In this illustration we can see the folded wings of the owl with the detailed drawing of all its feathers, of great beauty and balance. The owl has its eyes open and turns its head to its left side. The bird is perched on a branch of a tree. Directly download the illustration for graphic design in GIF format. Royalty-free illustrations. Cristina Alejos creations.
Français info – Artwork gratuit
Chouette à l'encre, noir et blanc
Illustrations de collection à l'encre de Chine. Illustration d'une chouette posée sur une branche Il s'agit d'un dessin créé dans le style de l'encre de Chine noir et blanc. Dans cette illustration on peut voir les ailes repliées de la chouette avec le dessin détaillé de toutes ses plumes, d'une grande beauté et équilibre. Le hibou a les yeux ouverts et tourne la tête sur son côté gauche. L'oiseau est perché sur une branche d'arbre. Téléchargez directement l'illustration pour la conception graphique au format GIF. Illustrations libres de droits. Créations Cristina Alejos.