Pintura de las plantas salvajes, composición fauvista y expresionista
Ilustración pintada con colores acrílicos. Se trata de un pequeño bosque con zarzamoras, amapolas, ramas de árboles, hierbas altas y otras plantas silvestres. Colores vivos, verdes, naranjas, amarillos y amapolas rojas. Formas nerviosas. Naturaleza salvaje y abandonada. Estilo expresionista.
Descargar la ilustración para diseño gráfico en formato JPG. Varias versiones. Ilustraciones libres de derechos de autor.
Naturaleza, campo y flores – Efecto pintura con textura de papel grueso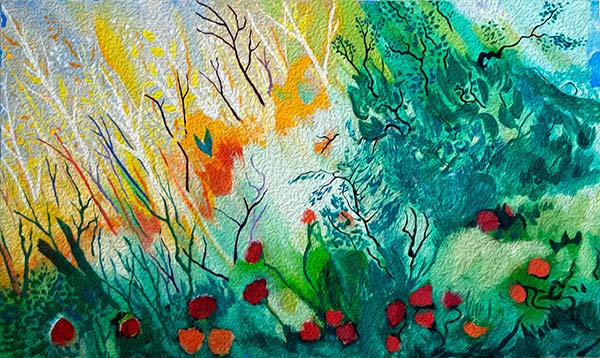 ---
English info – Free illustrations
Nature, countryside and flowers
Illustration painted with acrylic colors. It is a small forest with blackberries, poppies, tree branches, tall grasses and other wild plants. Vivid colors, green, orange, yellow and red poppies. Nervous forms. Wild and abandoned nature. Expressionist style. Download the illustration for graphic design in JPG format. Various versions. Royalty-free illustrations.
Français info – Artwork gratuit
Nature, campagne et des fleurs
Illustration peinte avec des couleurs acryliques. C'est une petite forêt avec des mûres, des coquelicots, des branches d'arbres, de hautes herbes et d'autres plantes sauvages. Couleurs vives, coquelicots verts, orange, jaunes et rouges. Formes nerveuses. Nature sauvage et abandonnée. Style expressionniste. Téléchargez l'illustration pour la conception graphique au format JPG. Différentes versions. Illustrations libres de droits.