Ilustración con la vista frontal de un edificio estilo de diseño Bauhaus
Ilustración de un edificio sólido, grande, de estructuras simétricas y estilo clásico o renacentista. Dibujo de la fachada, con tejado rojizo, con ventanas cuadradas y columnas en la parte inferior. El archivo se puede descargar en SVG, de modo que formas y colores serán editables.
Descarga la ilustración para diseño gráfico en formato SVG editable. Ilustraciones libres de derechos de autor. Creaciones de Cristina Alejos.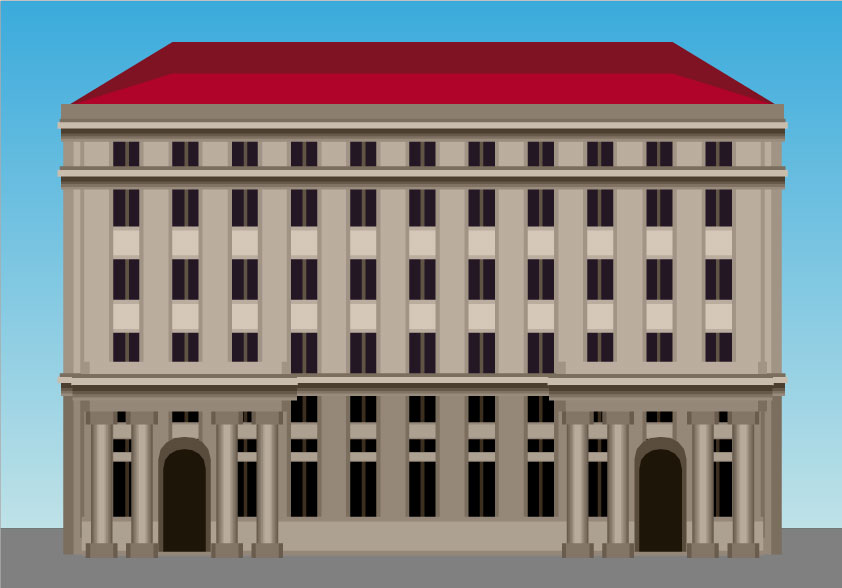 English info
Great building 
Illustration of a solid building, large, symmetrical structures and classical or Renaissance. Illustration of the facade with red roof, with square windows and columns at the bottom. The file can be downloaded in SVG, so that shapes and colors will be editable.
Français info
Grand bâtiment
Illustration d'un immeuble solide, de grandes structures symétriques et classiques ou de la Renaissance. Illustration de la façade avec un toit rouge, avec des fenêtres carrées et les colonnes au bas. Le fichier peut être téléchargé en format SVG, de sorte que les formes et les couleurs seront modifiables.