Colección dibujos Arte azteca. Ilustración en blanco y negro de la diosa Chalchiuhtlicue
Dibujo creado a partir de la escultura de la diosa del agua azteca. Formas rotundas y fuertes, los trazos negros dibujan la figura de la diosa de piedra. Esta diosa azteca también simboliza los nacimientos. Un dibujo de la diosa en blanco y negro.
Descarga la ilustración para diseño gráfico en formato SVG editable. Ilustraciones libres de derechos de autor. Creaciones de Cristina Alejos.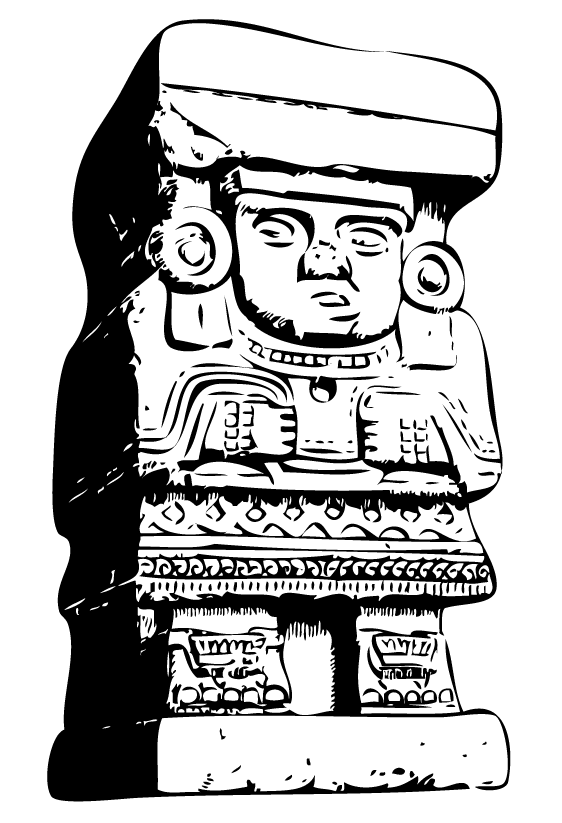 English info
Aztec goddess of water, Chalchiuhtlicue
Drawing created from the sculpture of the Aztec goddess of water. Rotund forms and strong, black lines drawn figure of the goddess of stone. This also symbolizes the Aztec goddess of births. A drawing of the goddess in black and white.
Français info
Déesse aztèque de l'eau, Chalchiuhtlicue
Dessin créé à partir de la sculpture de la déesse aztèque de l'eau. Formes rond et fortes, des lignes noires dessinée figure de la déesse de la pierre. Cela symbolise aussi la déesse aztèque de naissances. Un dessin de la déesse en noir et blanc.