Colección dibujos Arte azteca. Espectacular diseño gráfico azteca con el dios Quetzalcoatl unido al viento Ehécatl
Dibujo donde los aztecas representaban al dios Quetzalcoatl unido al viento Ehécatl, por lo que toma el nombre de Ehécatl-Quetzalcoatl. Un dibujo de formas expresivas y en movimiento. La graciosa figura tiene sus brazos y piernas en movimiento, junto con una vestimenta de plumas (por ser Quetzalcoatl) y una cabeza con pico (por ser también Ehécatl). Ilustración en blanco y negro de un dibujo azteca muy expresivo.
Descarga la ilustración para diseño gráfico en formato SVG editable. Ilustraciones libres de derechos de autor. Creaciones de Cristina Alejos.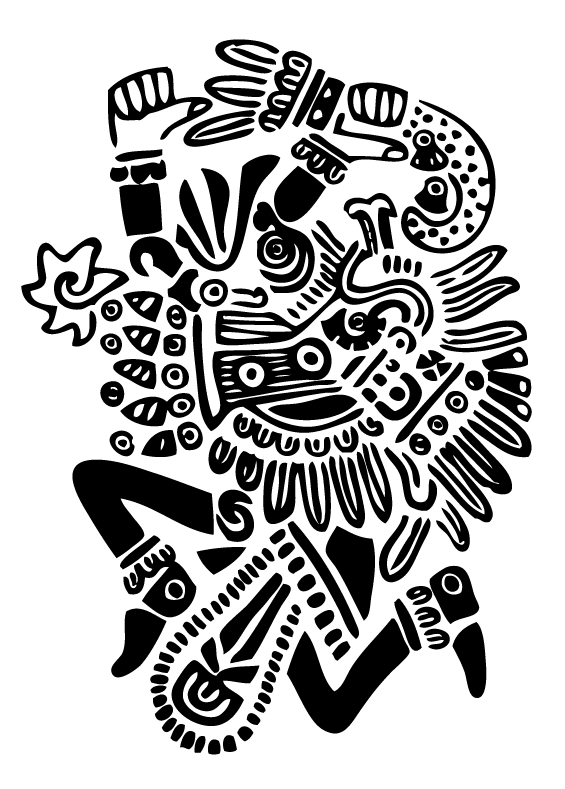 English info
Ehécatl-Quetzalcoatl illustrtion
Aztec drawing representing the god Quetzalcoatl Ehécatl attached to the wind, so it takes the name of Ehecatl-Quetzalcoatl. A expressive and moving drawing. The funny figure has arms and legs moving, along with a dress of feathers (being Quetzalcoatl) and peak head (being also Ehécatl). Black and white illustration of an Aztec drawing very expressive.
Français info
Illustration de Ehécatl-Quetzalcoatl
Dessin aztèque représentant le dieu Quetzalcoatl attaché au dieu du vent Ehécatl. Il prend le nom de Ehécatl-Quetzalcoatl. Un dessin de expressive et émouvante. Le drôle a bras et les jambes en mouvement, avec une robe de plumes (Quetzalcoatl être) et la tête de pointe (étant aussi Ehécatl). Illustration en noir et blanc d'un dessin très expressif aztèque.