Colección dibujos Arte azteca. Ilustración de un dragón
Diseño gráfico de un Sello de identidad con forma de dragón para un guerrero azteca
Estampa, marca o sello de identidad de un guerrero de la antigua sociedad azteca. Un dibujo de una figura que se parece a un dragón, con una gran boca de fiera abierta y vista de perfil, patas, cola con espinas o marcas y un dibujo circular con blancos y negros en el cuerpo del dragón. Un original sello de guerrero azteca.
Descarga la ilustración para diseño gráfico en formato SVG editable. Ilustraciones libres de derechos de autor. Creaciones de Cristina Alejos.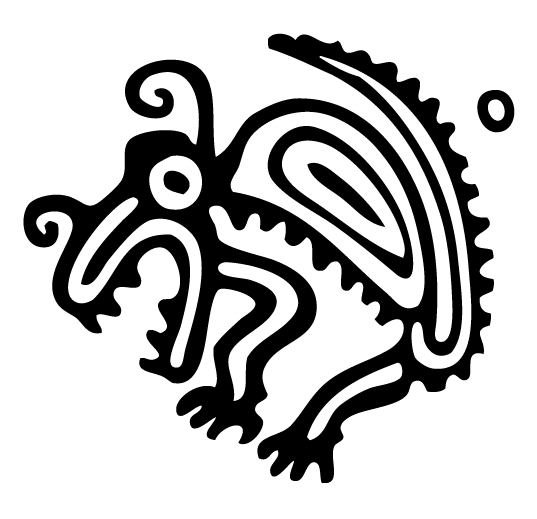 English info
Dragon seal of an Aztec warrior
Stamp, mark or hallmark of a warrior of the ancient Aztec society. A drawing of a figure that looks like a dragon with a fierce mouth open, profile view, legs, tail spines or brands, and a circular pattern with black and white in the dragon's body. An original seal Aztec warrior.
Français info
Sceau dragon d'un guerrier aztèque
Stamp ou marque distinctive d'un guerrier de l'ancienne société aztèque. Un dessin d'une figure qui ressemble à un dragon avec une bouche ouverte féroce, vue de profil, les jambes, la queue ou des marques épines, et un motif circulaire en noir et blanc dans le corps du dragon. Un guerrier aztèque sceau original.