Colección dibujos Arte azteca. Ilustración original de los dioses aztecas Quetzalcoatl y Mictlantecuhtli
Un dibujo azteca con los dioses de la vida y de la muerte unidos, Quetzalcoatl y Mictlantecuhtli. Uno es blanco y el otro negro. Las dos figuras están unidas por las formas de dibujo en una original y completa composición. Quetzalcoatl sin plumas pero con calaveras, junto con algunos dibujos con formas de animales. Simbolizan la muerte. Dibujo del Codex Vaticanus.
Descarga la ilustración para diseño gráfico en formato SVG editable. Ilustraciones libres de derechos de autor. Creaciones de Cristina Alejos.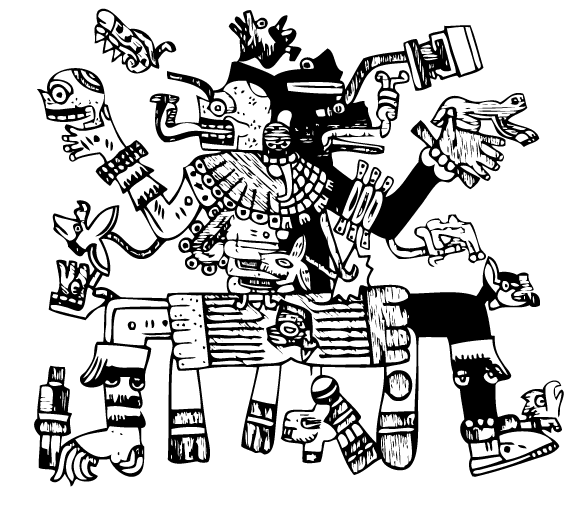 English info
Quetzalcoatl y Mictlantecuhtli gods
Aztec drawing, with the gods of life and death together, Quetzalcoatl and Mictlantecuhtli. One is white and one black. The two figures are united by drawing shapes and complete an original composition. Quetzalcoatl has no feathers but skulls, with some drawings with animal shapes. Symbolize death. Drawing of the Codex Vaticanus.
Français info
Dieus Quetzalcoatl y Mictlantecuhtli
Dessin aztèque, avec les dieux de la vie et la mort ensemble, Quetzalcoatl et Mictlantecuhtli. L'un est blanc et un noir. Les deux personnages sont unis par le dessin de formes et de compléter une composition originale. Quetzalcoatl avec pas de plumes, mais avec des crânes, ainsi que quelques dessins avec des formes animales. Symbolisent la mort. Dessin du Codex Vaticanus.