Colección dibujos Arte azteca. Ilustración de un pájaro con el estilo azteca
Estampa, marca o sello de identidad de un guerrero de la antigua sociedad azteca. Dibujo de un pájaro volando y visto de perfil. Un precioso diseño de las alas y el pecho del ave con una espiral dibujada en el centro. Se pueden ver perfectamente las alas y la cola emplumadas, junto a la cabeza con su pico y su ojo. Ilustración sencilla pero llena de belleza.
Descarga la ilustración para diseño gráfico en formato SVG editable. Ilustraciones libres de derechos de autor. Creaciones de Cristina Alejos.
Sello de un guerrero azteca con forma de pájaro volando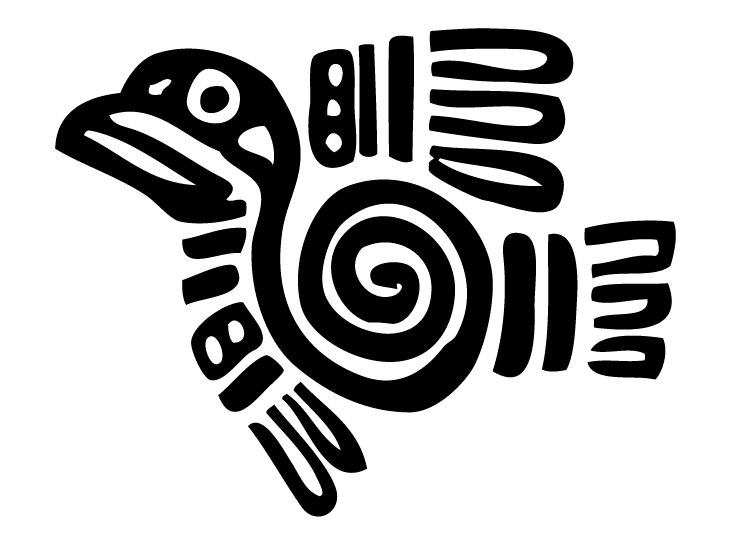 English info
Flying Bird – Aztec Drawing
Stamp, mark or hallmark of a warrior of the ancient Aztec society. Drawing of a bird flying. A beautiful design of the wings and the bird's breast with a spiral drawn into the middle. You can see perfectly feathered wings and tail, near the head with its beak and eye. Simple illustration, but full of beauty.
Français info
Oiseau volant – dessin aztèque
Stamp, marque ou marque distinctive d'un guerrier de l'ancienne société aztèque. Dessin d'un oiseau qui vole et vu de profil. Une belle conception des ailes et la poitrine de l'oiseau avec une spirale tracée au centre. Vous pouvez voir des ailes et la queue parfaitement plumes, près de la tête avec son bec et les yeux. Illustration simple, mais pleine de beauté.