Colección dibujos Arte azteca. Dibujo de un mono
Diseño con líneas negras sobre fondo blanco de la figura de un mono. Con sus brazos y piernas, una cresta en la cabeza, un largo rabo y una gran barriga. El mono camina y mueve sus brazos mientras parece gritar algo. Increíble diseño gráfico que fue creado en la sociedad azteca seguramente para un sello de identidad.
Descarga la ilustración para diseño gráfico en formato SVG editable. Ilustraciones libres de derechos de autor. Creaciones de Cristina Alejos.
Dibujo de un mono o chimpancé creado en el arte azteca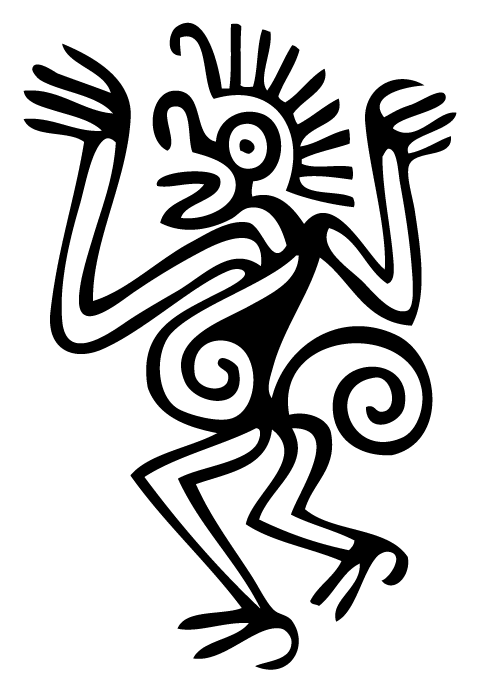 English info
Drawing of a monkey or chimpanzee created in Aztec art
Design with black lines on white background of the figure of a monkey. With his arms and legs, a crest on his head, a long tail and a big belly. The monkey walks and waves his arms while he seems to yell something. Incredible graphic design that was created in the Aztec society surely for an identity stamp.
Download the illustration for graphic design in editable SVG format. Royalty-free illustrations. Cristina Alejos creations.
Français info
Dessin d'un singe ou un chimpanzé créé dans l'art aztèque
Conception avec des lignes noires sur fond blanc de la figure d'un singe. Avec ses bras et ses jambes, une crête sur la tête, une longue queue et un gros ventre. Le singe marche et agite les bras tout en semblant crier quelque chose. Conception graphique incroyable qui a été créée dans la société aztèque sûrement pour un cachet d'identité.
Téléchargez l'illustration pour la conception graphique au format SVG modifiable. Illustrations libres de droits. Créations Cristina Alejos.